5 Essential Tips for Enjoying Your OBX Wild Horse Hummer Tour
Have you always dreamed of visiting the wild horses on North Carolina's Outer Banks?
Our little pirate family adores horses and we were ecstatic to finally get a chance to check off that bucket list item this past summer during our visit to the OBX.
There's something about the untamed and unfettered beauty of stallions playing on the white, sandy beaches that captures our imaginations.
Wild Horse Hummer Tour
We chose to see the Chincoteague Wild Ponies with the most respected touring company in the area, Wild Horse Adventure Tours. They have consistently held the #1 rating on Trip Advisor for years. They have large, comfortable hummers that fit the whole family. When we researched other tour companies, some of their vehicles looked a bit questionable for carrying small children. Now that we are experienced Wild Horse Hummer Tour Adventurers, we can give you five essential tips for enjoying your hummer tour on the Outer Banks.
Tip #1 – Car Seats
There is no age restriction for riding in the hummers because they allow car seats. This definitely made us feel safer with bringing the three little pirates, the youngest only 20 months old at the time.
If you have young children, make sure to arrive at the Wild Horse Adventure Tours station at least 15 minutes before your scheduled departure. Tell the guide how many car seats you have and he will help you get them into the Hummer. Though they do help, expect to do most of the install yourself.
We had three car seats (2 Diono RadianRXT Convertible Car Seats to be specific and 1 Britax Marathon). The guide, Steve, let Steve (my husband) install them on the first row of seats in the Hummer Tour.
Two Steve's on the journey made for some fun laughs along the way. The kids got a kick out of it.
They will install rear-facing seats in the hummer for you but I wouldn't recommend it for two reasons. One, if your child is an infant and has to be rear facing, he or she isn't likely to enjoy the journey.
Two, the wild horse hummer tour ride is mostly smooth but does hit some rough terrain. My suggestion is to call the company if you are unsure and let them help you.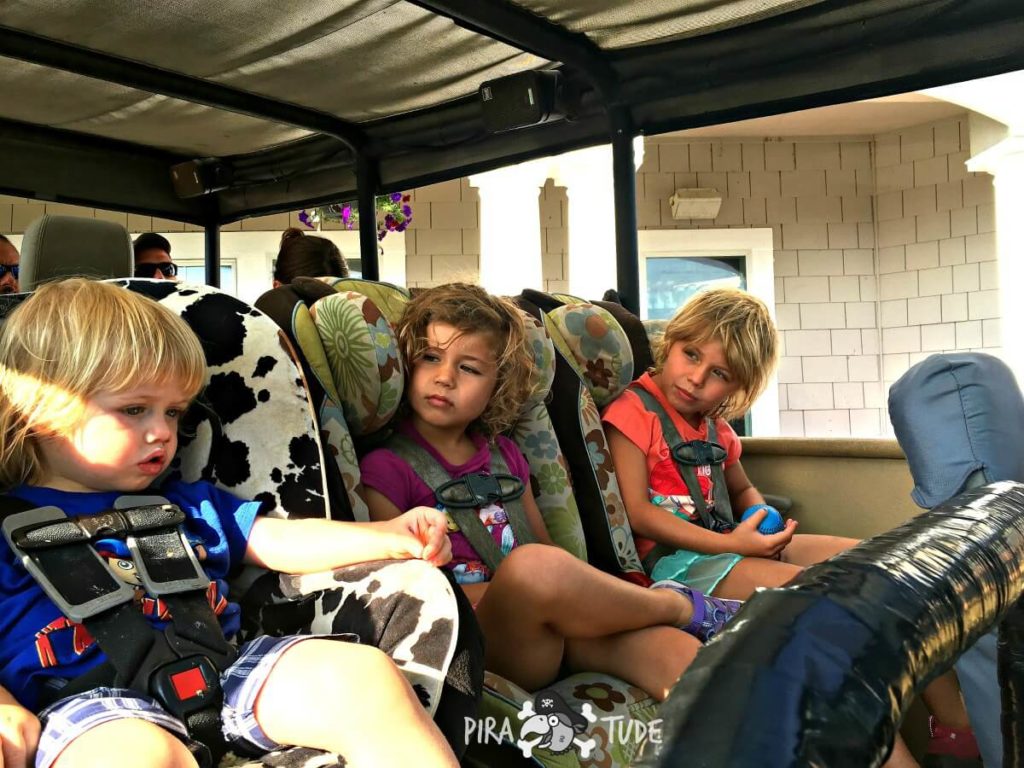 Tip #2 – Sun Protection
Do not make our mistake. Bring sunscreen! In the scuffle to leave our rental in time for our adventure, I forgot the sunscreen. What's worse is that the kids were all wearing shorts.
When you are sitting in an open-air vehicle, the sun beats down on those little pasty legs. I grabbed whatever cloth I could find (my scarf, a hat) to help them cover their soon-to-be-lobster legs.
Everyone in your party should also wear a hat for increased sun protection and no tank tops. Keep those shoulders shielded from the sun's strong rays.
We did manage to bring water which is also an essential item to pack on your wild horse hummer tour. You are also allowed to bring snacks but we didn't for fear the little pirates would have crushed cheerios and goldfish crackers all over the floor of the beautiful hummer.
If your children are better at eating than mine, feel free to bring them a few fun snacks for the journey.
Tip #3 – Bathrooms
Wild Horse Adventure Tours has a bathroom which is located upstairs in their building. You will find it on the left of the gift shop.
Do yourself a favor and take all the kids upstairs and use the facilities before strapping them down in the hummer. The tour lasts a little over two hours and they will need to go. There are no places for bathroom breaks during the journey. Channel your inner airline attendant and ration the water or bring salty snacks to keep the begging for bathroom breaks to a minimum.
Tip #4 – Camera
It goes without saying but I'm going to say it anyway. Do not leave your rental without this essential item. The tour guides will do their best to bring you close to beautiful wild ponies. You will want to capture this memory to share with family back home to make them jealous. At the time we took the tour, there was a foal and we were lucky enough to catch a few photos of the baby.
We also took a couple videos (with our phones). Watch the video at the end of the post for the full tour.
Tip #5 – Rainy Day Gear
The guides won't take you out during thunderstorms on the wild horse tour but will drive in a light rain. It rains often in the Outer Banks. Make sure that if there is even a hint of a rain forecast for the day, to bring clothing that you don't mind getting wet.
You can also bring a poncho but no umbrella. As the hummers are mostly open air, you will be in the elements so make sure to protect your camera and phone from water.
One Last Word Before You Go
If you have time before your wild horse hummer tour, grab a few donuts at Duck Donuts right across the street. Give yourself plenty of time as there is usually a line out the door during the busy season. We love Duck Donuts and tried to grab them but the line was too long and, as usual, we were already running late. We had to get donuts at the grocery store right next door to Duck Donuts. Sadly, it was not the same delicious experience.
A Final Word on Wild Horse Adventure Tours
This wild horse hummer tour company is pretty amazing. They care for these horses in a real way. The owner of the company purchased land in the area so he could keep it a preserve and allow the horses to roam free without commercial use.
The drivers are very cognizant of the horses' personal space and drive respectfully through the area and around the beautiful horses. They have even teamed up with American Forests to off-set their carbon footprint.
Stay tuned. More exciting adventures in piratude to come: