25 Must-Have Tailgate Items for a Jimmy Buffett Concert
We attended our first Jimmy Buffett Concert this fall on the last concert of Buffett's "I Don't Know" 2016 Tour. As parrot head tailgating virgins, I did a decent amount of research to make sure we brought the proper items to the venue but we still forgot a few things. To help us in planning our next trop rock concert adventure, I drew up this list of 25 must-have tailgate items for a Jimmy Buffett Concert.
We had the opportunity to see the last Jimmy Buffett concert ever to take place at the soon-to-be-demolished historic Irvine Amphitheater. According to J.T., he has been playing there for 30 years. This concert was both bittersweet and a chance to send this venue out with a party remembered for years to come.
List of 25 Must-Have Tailgate Items for a Jimmy Buffett Concert
#1 – Tablecloth
This is an often-forgotten necessity when setting up a tailgate. Since we were at a Jimmy Buffett Concert, we purchased a pirate-themed table cover from Party City.
#2 – Propane Grill
A tailgate is not complete without a grill. While you can use a charcoal grill, we prefer propane as it burns cleaner and can easily be turned off and stored prior to the concert. With a charcoal grill, there is always the possibility of a fire if it is not cleaned out properly prior to storage back in the truck.
#3 – Lighter
We learned the hard way that a lighter is a must-have accessory at any concert. We set up our tailgate and readied ourselves to fry up a few burgers. To our chagrin, we had forgotten to bring anything to light the propane. Luckily, tailgaters at Jimmy Buffett concerts are all too happy to lend out lighters, leis, or boat drinks to passersby.
#4 – Water
Whatever you do, don't forget to bring water. When preparing for a Jimmy Buffett tailgate, we all think about the alcoholic drinks to bring but just as important is the non-alcoholic beverages. When sitting in a parking lot under the hot sun for several hours, you will definitely be grateful that you brought bottles of water.
#5 – Sunglasses
One of the main attractions of a Jimmy Buffett concert is the tailgating prior to the main event. Tailgates start several hours before sundown. A good pair of sunglasses are an important component to enjoying your time in the parking lot.
#6 – Hawaiian Shirt or Concert T-Shirt
Parrot Heads dress up for concerts. When visiting a Jimmy Buffett tailgate, your eyes will gaze upon a sea of hawaiian shirts, leis, hula skirts, and concert t-shirts.
#7 – Plastic Margarita Glass
Pre-flighting before a Buffett concert is much more fun when you are not worried about breaking your good margarita glasses. Pick up a few cheap ones the week before the concert. Better yet, bring a few extra plastic ones to share with your fellow tailgaters.
#8 – Landshark Lager
The Parrot Head beer of choice, promoted by Jimmy Buffett, is Landshark Lager. Bring at least a six-pack of these on ice. Share with a friend.
#9 – Cooler
A cooler is important not only for keeping the drinks cold, but properly storing your leftover food after the concert.
#10 – Ice
If you are making boat drinks with a battery-powered margarita machine, don't forget the ice! You also need ice for your cooler and to drink with the water you will be sipping between each pitcher of margaritas.
#11 – Chairs
We used the Tommy Bahama backpack beach chairs to achieve that vacation feeling while sitting in a parking lot.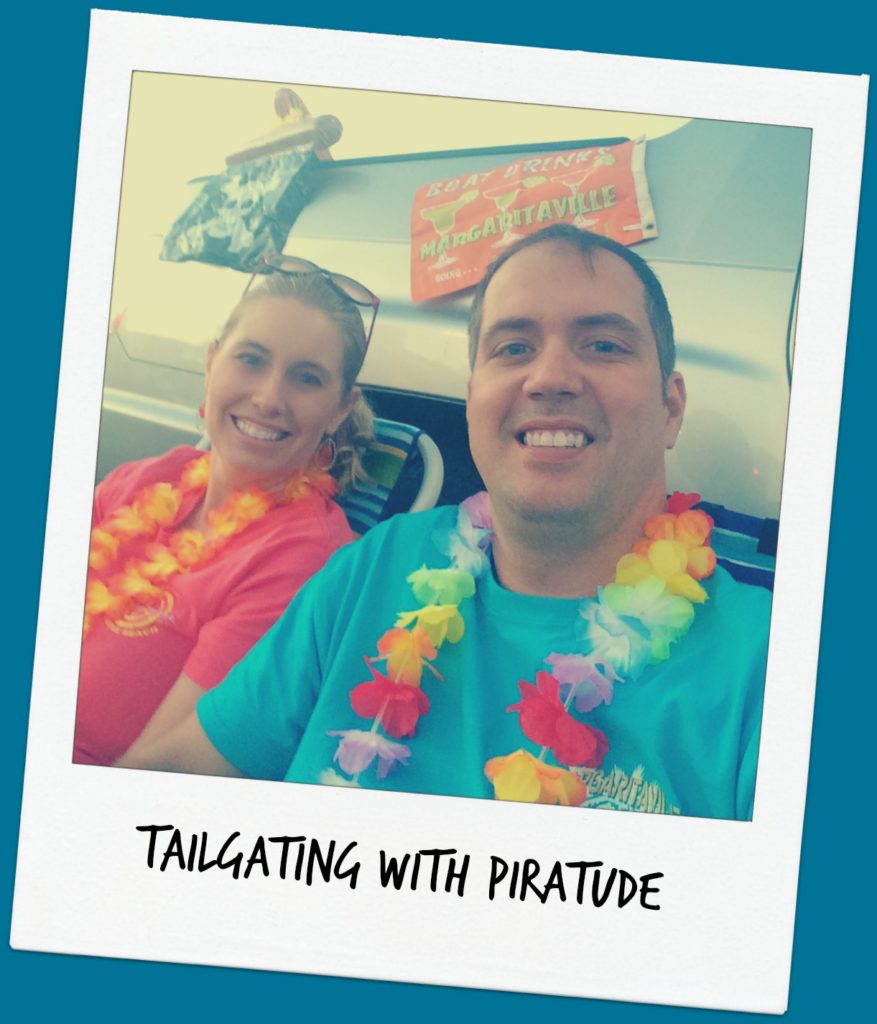 #12 – Battery-powered lights
If the concert begins in the evening, you will be thrilled that you remembered to bring your battery-powered lights when the sun sets. These can take the form of small sparkling christmas lights, flashlights, or camping lanterns.
#13 – Fixings for Cheeseburgers in Paradise
Don't forget to add these items to your shopping list: lettuce, tomato, Heinz 57, cheese, and a big kosher pickle. Feel free to create your own concoction.
#14 – Bluetooth Speaker
If your car is situated far from the RV parking area (where the really big parties are happening), you may not be listening to anything but the sounds of laughter as you sit by your truck or car. If you would like to listen to Jimmy's albums or any trop rock, make sure that you have your bluetooth speaker to attach to your cell phone. It's best not to have your car running to play the radio because of how long you will be tailgating. It would certainly put a dark cloud over your sunny concert-going experience if you came back to your car and found a dead battery.
#15 – Head Gear
Cheeseburger hats, shark hats, sombreros, parrot hats, beer-drinking hats, pirate hats – find something fun to show your personality and love for Margaritaville life.
#16 – Salt & Limes
Bring plenty of limes to wet the rims of your margarita glass and a knife to cut them. If your boat drinks will be sweet, bring lemons/oranges and sugar to rim your frozen concoctions.
#17 – Boat Drinks
If tequila isn't your friend, consider bringing the ingredients to make your favorite tropical beverage. Boat drinks are usually rum-based and can be frozen or served on the rocks (see #10 necessity).
#18 – Storage Bags
Keep bags with you to store those extra lime wedges and any souvenir pop tops.
#19 – Trash Bags
When planning for all the festivities involved with attending a Jimmy Buffett tailgate, don't forget that you will need to clean up your car before the concert. Bring at least two trash bags (in case one rips) and one recycling bag for all those Landshark bottles and red Solo cups.
#20 – Table
At a tailgate, typically partygoers use the drop-down tailgate of a truck or SUV. If you don't have either of these vehicles or need more room to serve everyone in your party, invest in a foldable table. Before setting out on your tailgating adventure, please be sure the table will actually fit inside your car.
#21 – Camera
If I had to pick one thing you should never be without at a Jimmy Buffett concert, it would be #21 – a camera. Not only will you capture your own fun memories, but you will see wonderful decorations, displays, and party props everywhere you turn: pirate ships, pools, beaches with sand, tiki huts with torches, limbo games, working volcanoes, and so much more.The best parties are usually where all the RVs are parked. These parrothead phlocks go all out for the concert. Make sure to walk over to this area of the tailgate and join in the festivities at least once.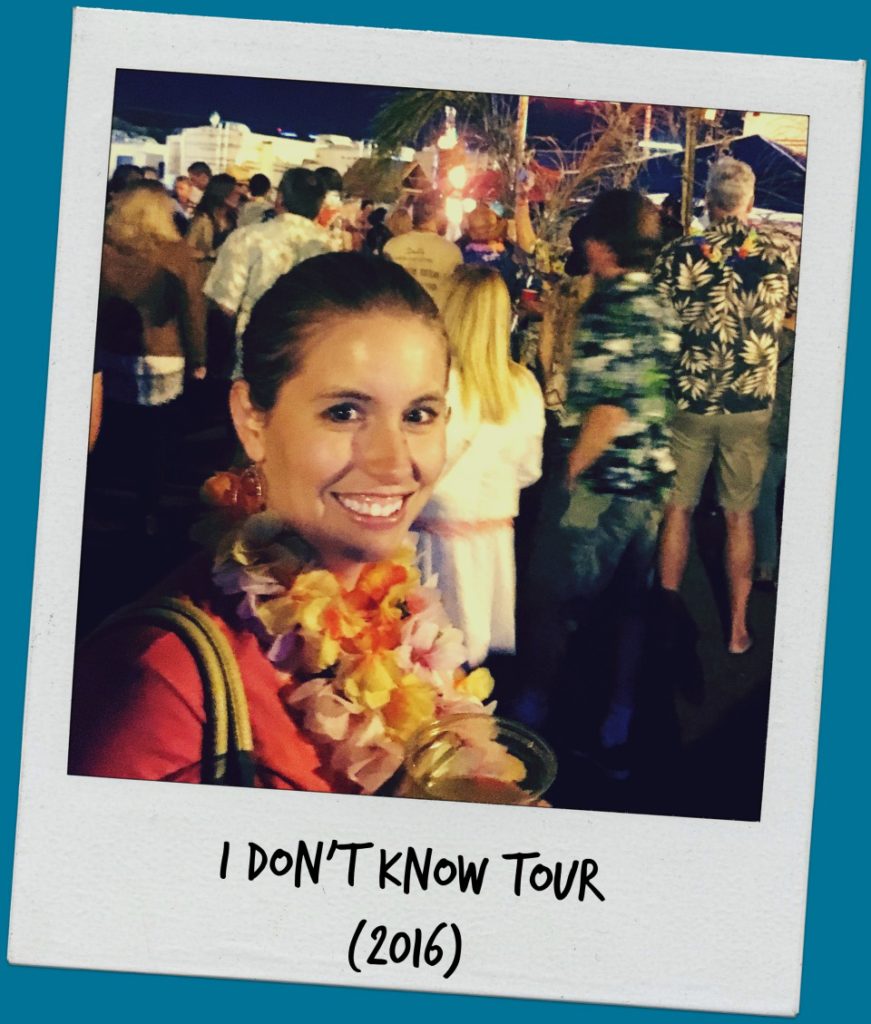 #22 – Pitcher/Drink Dispenser/Cocktail Shaker
Since we did not want to spend the time making each margarita individually, we chose to forgo the cocktail shaker and instead, mixed our margaritas in a plastic drink dispenser. We were able to easily refill our margarita glasses and keep the party flowing.
#23 – Flip Flops
Nothing says the beach bum lifestyle like a good pair of flip flops.
#24 – Hand Sanitizer
There will be porta potties. You will need to use them at some point during your day.
#25 – Toilet Paper
See #24. Not all porta potties are created equal and many come without or run out of this necessity.
Bonus Items
#26 – Hula Girl at Heart Items (Optional)
Grass skirts, coconut bras, and leis. Many women (and a few men) chose to dress up. Most parrot heads feel naked without at least one lei.
We brought a bucket of cheap leis we purchased from the party store and gave them out to fellow parrot heads in need of decoration.
#27 – Pirate Gear (Optional)
If you want to theme your truck or SUV, there's no better theme than Pirate. We decked out our truck with a pirate flag, a small blow-up pirate ship to hold our food, a paper parrot decoration, and a treasure-map tablecloth. Feel free to use your imagination to bring your tailgating to new heights.
I hope this list of 25 must-have items has helped you pack for your Jimmy Buffett concert adventure. Let the Fin Begin!