7 Family-Friendly Pirate Adventures on the Outer Banks
The Outer Banks (OBX) is North Carolina is an amazing location for a pirate adventure for the whole family. Our family visited the Outer Banks this summer on our two-week cross-country road trip. Whether you are up for fun and frolic on the high seas or landlubber entertainment, this list of seven family-friendly pirate adventures on the Outer Banks should be on your to-do list.
North Carolina's Outer Banks is a natural spot for pirate adventurers (as it has been for centuries.). In the 1700s, real pirates, namely Edward Teach "Blackbeard," Stede Bonnet "The Gentleman Pirate," Charles Vane, and the infamous Calico Jack Rackham roamed the waters around the Outer Banks stirring up mischief, terror, and treasure-seeking quests. Step back into history and explore pirate lore with these 7 family-friendly pirate adventures on the Outer Banks.
7 Family-Friendly Pirate Adventures in the OBX
#1 – Pirate Adventures at Manteo
An absolute must-do at the OBX for pirate families is the Pirate Adventures of the Outer Banks located in Manteo, Roanoke Island, North Carolina. Children and adults will be whisked away on a pirate adventure on board a pirate ship, Sea Gypsy IV. The actors on the ship will immerse you in pirate lore and take you on a swashbuckling ride to find lost sunken treasure.
They have a great story surrounding a stinky pirate named Pirate Pete. The kids will have the opportunity to read a treasure map, spy for messages floating in a bottle in the sea, and man a water canon to defeat the pirate scourge. The adventure lasts a thrilling 1 hour and 30 minutes as is $23/person (age 3 and older). Those under 2 will still need to purchase passage for $12.
#2 – Pamlico Jacks at Nags Head
It doesn't get more family friendly than enjoying a hearty lunch or dinner at Pamlico Jacks in Nags Head. On entering, pirate kids are given gold doubloons and coloring pages.
You have the option to dine inside or out but I highly suggest sitting outside. The patio portion of Pamlico Jacks is designed as the deck of a pirate ship. Your children will enjoy standing at the helm and imagining that they are guiding the vessel on a swashbuckling adventure!
Best yet, they have an extensive kids menu so all the family can enjoy a fun and relaxing meal. If you happen to be heading there before dinner, schedule your meal for right before sunset to be treated to an amazing view off the bow of the ship.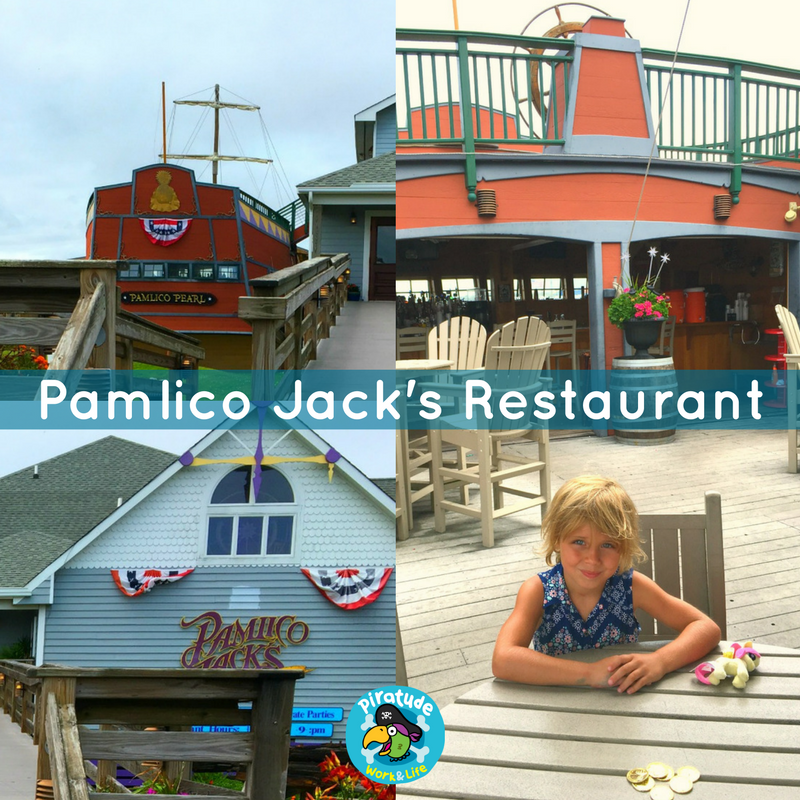 #3 – First Flight Adventure Park at Nags Head
While not specifically pirate themed, children (9 and up) and adults will enjoy a thrilling adventure at First Flight Adventure Park at Nags Head. My kids were begging to do this after lunch at Pamlico Jack's but with kids under 48 inches, it wasn't going to happen.
This is a great adventure for the daring older kids and bold parents in your crew. You will travel across rope bridges and platforms ranging from 12 – 50 feet in height. There are easy, intermediate and advanced courses. You will utilize many items handled by pirates and seamen (e.g. ropes, cables, barrels, a hammock) to get through each course. It will be a physical test of your agility. Imagine yourself as a marauding pirate or a buccaneer jumping aboard a British navy vessel.
#4 – Teach's Hole at Ocracoke Village
Another family-friendly pirate adventure is located in historic Ocracoke Island. Teach's Hole is a pirate specialty shop and includes an exhibit of the famous pirate, Blackbeard. Blackbeard, whose real name was Edward Teach, met his demise on November 22, 1718 near this spot.
Teach's Hole is not open year-round so check the website before visiting. Not only can you look at some amazing pirate weapons and see a documentary on Blackbeard's life but you can purchase fun pirate souvenirs for the kids and adults as well.
#5 – Mutiny Bay Adventure Golf in Nags Head
There is no shortage of miniature golf parks on the OBX but Mutiny Bay Adventure Golf in Nags Head is one of the best for pirate-loving families. You will join Billy Bowlegs on an adventure through cannon fire, pirate caves, and the pirate ship, the Sea Wolf. As you move through the 18 holes on the course, you absorb interesting pirate facts about buccaneers of the Golden Age of Piracy. Mutiny Bay Adventure Golf is located right next door to Pamlico Jack's Restaurant (see #2).
#6 – Kill Devil Hills
The town of Kill Devil Hills on the Outer Banks has a story steeped in pirate lore. According to legend, pirates stopped at a place on the Outer Banks and chose to spend the time drinking very strong rum. One pirate said to his mate, "Boy, this rum could kill a devil" and the name was born. Walk near the sand dunes on the beach at dusk (bring a flashlight or lantern) and imagine what it would have been like to be a pirate on that very spot in the 1700s. Tell ghost stories if you dare.
#7 – Graveyard of the Atlantic Ghost Tour in Manteo
Explore the legends of pirates including Blackbeard's pact with the devil during this evening ghost tour. The Graveyard of the Atlantic Ghost Tour "Shipwrecks, Pirates, Legends and Lore" only occurs on Tuesdays at 8:00pm. This tour is not for the youngest buccaneers in your crew.
The walking tour lasts one and a half hours. You will make several short stops as you learn the dark side of the pirate life. Adults are $13 and children (10 and under) are $8. This tour is cash only and reservations are required.
Three Bonus Family-Friendly Pirate Adventures Right Off the Outer Banks
If you have time, catch the ferry or drive to Beaufort North Carolina to extend your family-friendly pirate adventures. The inlet at Beaufort is the site of the destruction of Blackbeard's most famous ship, the Queen Anne's Revenge. Read more about the Queen Anne's Revenge wreck and salvage here (northcarolinahistory.org) and here (history.com).
#8 – North Carolina Maritime Museum in Beaufort
At the Maritime Museum, you will see an amazing exhibit of artifacts (including cannons and belt buckles) from Blackbeard's flagship, the Queen Anne's Revenge. The wreckage of the Queen Ann's Revenge was discovered in the waters around Beaufort in 1996.
#9 – Port City Tour Company "Legend of Blackbeard" Tour
In Beaufort, just down the road from the Maritime Museum, sits the Port City Tour Company Office. The Legend of Blackbeard tour will take you on a historic adventure through the streets of Fish Town (Beaufort's name in pirating times).
This is a walking tour so be sure to wear good shoes and get all the kids to use the bathroom before heading over there. They do not have public restrooms. Older children (8 and up) will get the most enjoyment out of this tour but there is a fair good of acting so the younger ones can pay attention to parts of it.
#10 – Blackbeard's Grill & Steam Bar
Finally, round out your adventure with dinner at Blackbeard's Grill & Steam Bar. The restaurant is only open 5pm – 10pm Wednesday through Saturday. It is open on Sunday for lunch from 11:30am – 2:00pm and again for dinner (4:00pm -8:00pm).
They have some of the best seafood around and you can even try Blackbeard's famous grog. If you have young children, do not eat there too late as the crowd becomes more of a bar scene.
Pirate Play at the OBX
With this list of family-friendly adventures, you can now set sail for the Outer Banks. If you added any of these to your OBX itinerary, comment below with your experience.