How to Build a Pirate Valentines Box fueled with Love, Glue and Caffeine
This week I heard one of the most dreaded words found in the working-parent lexicon from my kindergartner. "Mom, I have to bring in a shoe box decorated for Valentine's Day and it's due today!"
With only maybe an hour to spare before rushing out the door for work and school, we had to pull together a crafting miracle.
A shoe box was quickly procured – literally the only one I had was a large box from a recent boot purchase.
After a short brainstorming session, we settled on the theme of a pirate flag because – why not right?!
Below are the steps we used to build a pirate valentines box for school. I promise it only took one hour – it had to. That's all the time we could spare.
I will prove to you that you do have time to devote to school projects.
Supplies
I haphazardly threw together our needed materials. Obviously, we already had these items in the house (thanks to many years of crafts hoarding on my part).
If you don't have these particular items, that's OK, work with what you can find. Think of it as a treasure hunt!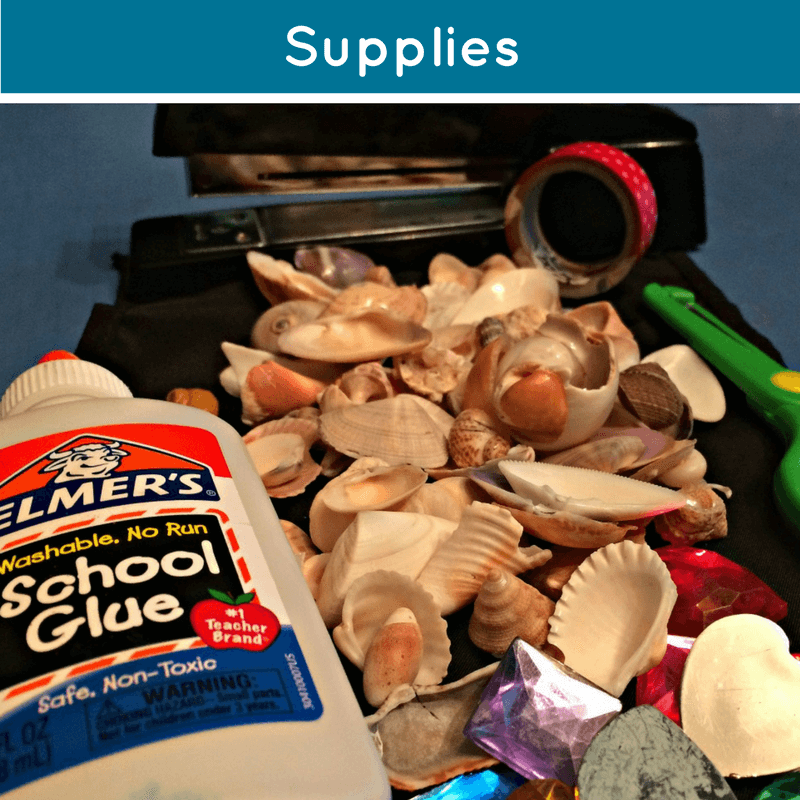 Shoe Box
Stapler
Elmer's Glue
Shells
Craft gems
Construction Paper (black)
Washi Tape
Hot Glue Gun (with hot glue)
Printer & printing paper
Scissors
Paper cutter (if you have it)
A cup of coffee (for mom)
Electricity
A complete lack of perfectionism
The patience of a saint (or at least the ability to hold it together for one hour)
A large dose of laughter
One clock to make sure you aren't late for work
Step 1: Cover that Shoe Box
I used a combination of Elmer's Glue and a stapler to attach the black construction paper to the shoe box. Mom gets to use the stapler but I let the pirate princess wield the craft glue.
We managed to cover the box in about 10 minutes. To hide the ugly staples, I ran a piece of red polka-dot washi tape along the sides of the box. The washi tape also helped to keep the edges of the box (where the paper joined) together in a more complete way.
If you don't know what the heck washi tape is, get out there and Google it. This stuff will change your life! Ok, maybe not exactly but it will make taping things so much more fun (and pretty!). Don't worry, there's manly washi tape out there as well.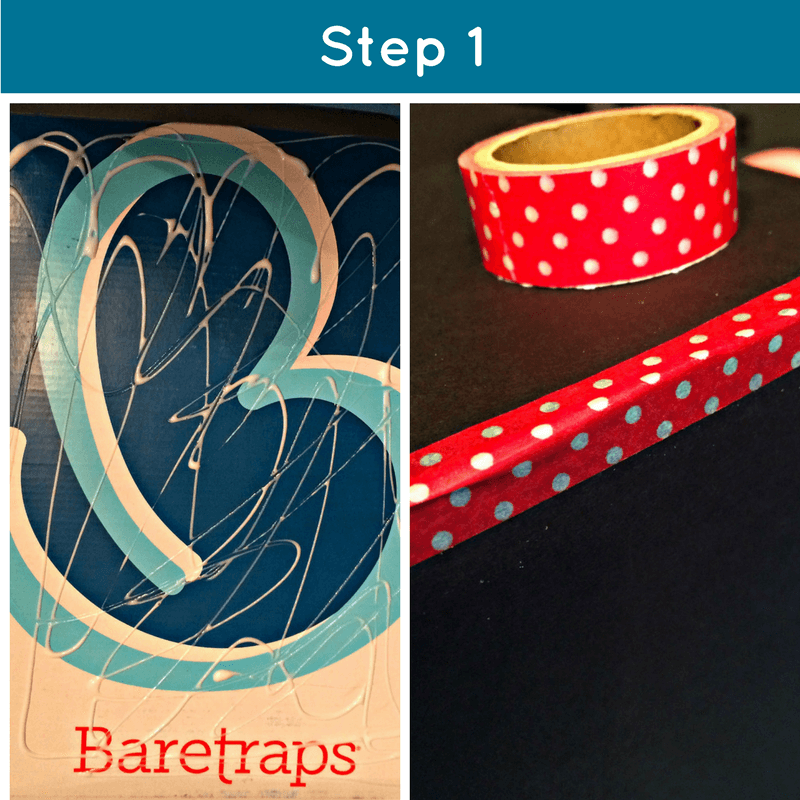 Step 2: Steal a Photo
There was no time to pull out my Silhouette and cut a beautiful skull and crossbones image from the Silhouette online library. Instead, I settled for the next best thing – Google images. I found a image that was royalty free online and printed that sucker out.
Giving the printed paper to the pirate princess, I asked her to cut the image out while I quickly threw together the day's lunches and poured cereal for the other two hungry pirates in my crew.
You didn't think I would be able to devote an entire uninterrupted hour to crafting did you?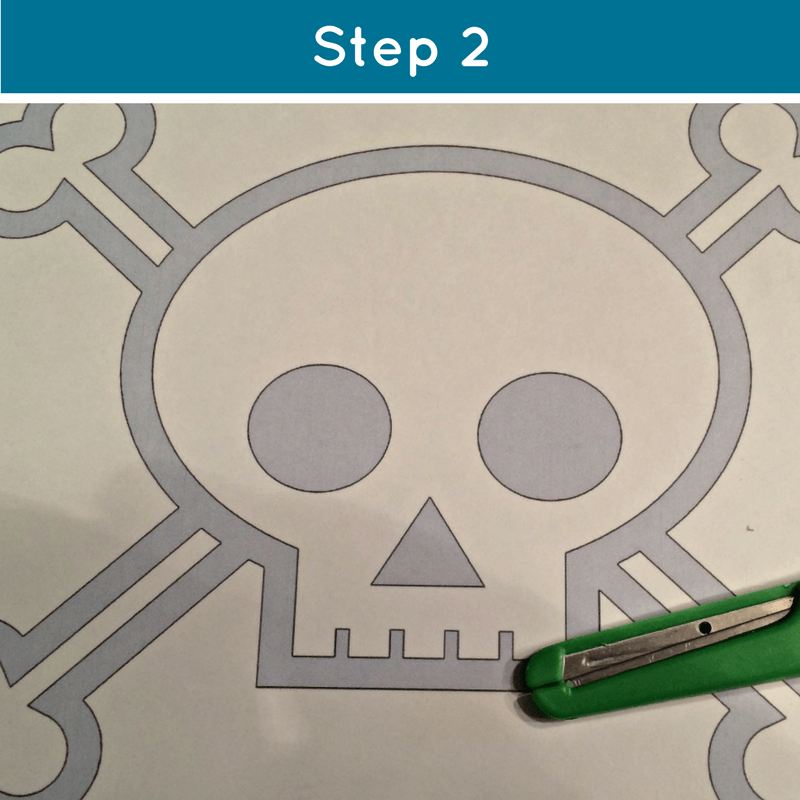 Step 3: Glue Skull & Crossbones to Pirate Valentines Box
A bit of Elmer's glue later and our expertly trimmed skull and crossbones image was centered on the valentines box. As the glue was setting on our masterpiece, the pirate princess chimed, "we need to put a hole in the top for the valentines."
Seriously? She couldn't have mentioned this to me 30 seconds ago?
In my defense, I figured the idea was to open the shoe box top and place the valentines inside. I will chalk this up to a rookie mistake.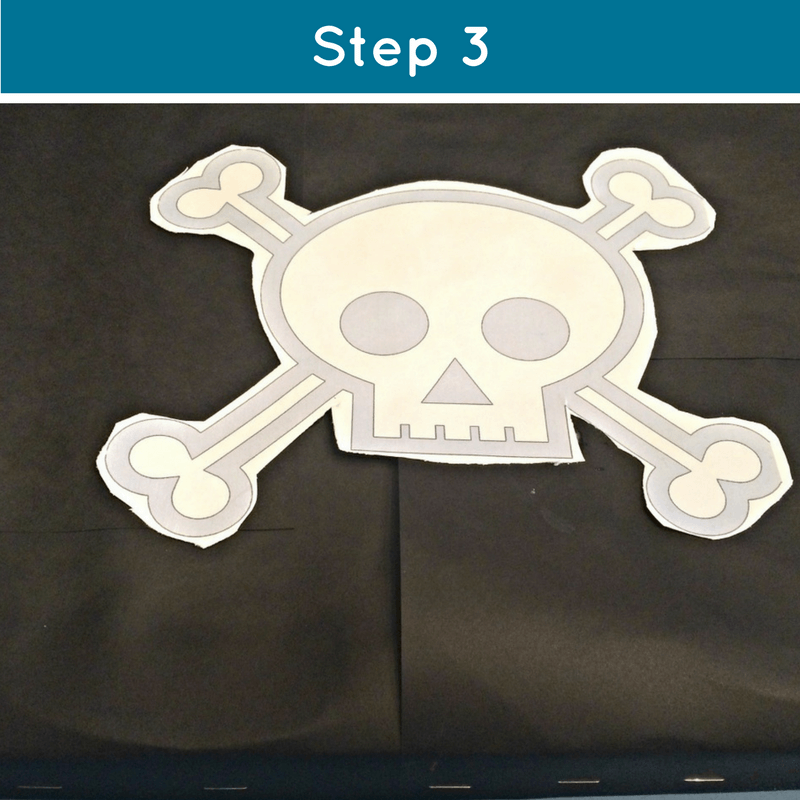 Step 2B: Insert Mail Slot into Pirate Valentines Box
Flip the top of the shoe box upside down on your table. Perforate holes with the edge of your scissors or any sharp weapon you own laying around the house to form the shape of the mailbox slot. Cut the slot out with scissors. Most importantly, make sure to do this before step 3 (found above) so you aren't trying to squeeze in a mail slot after the fact.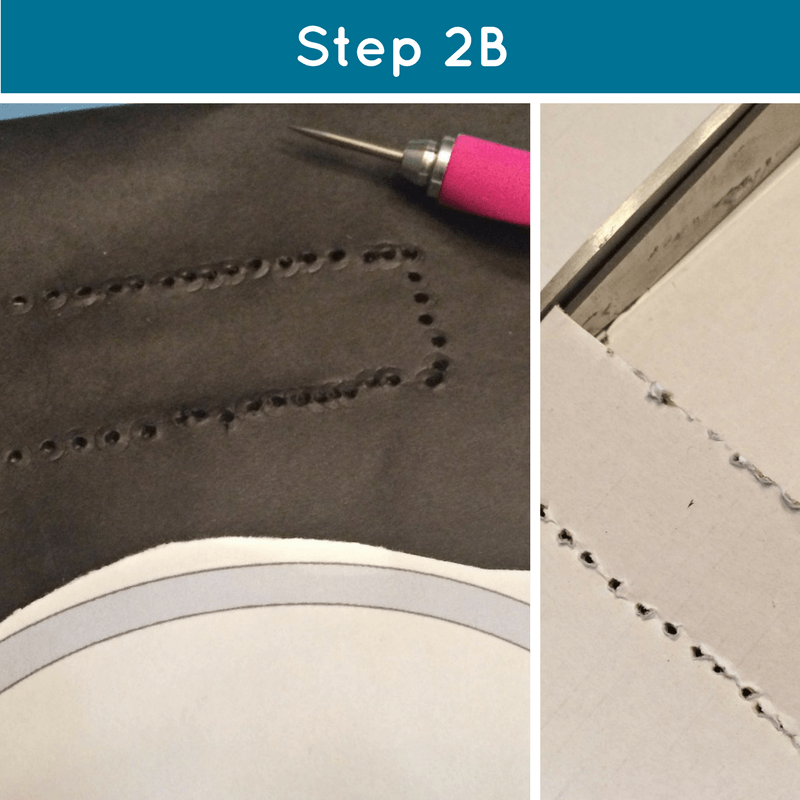 Step 4: Glue Gun Fun
I know you'll agree that pirates have a passion for their weapons (including glue guns). While warming up the glue gun, have your son or daughter pick out his or her favorite shells/gems/other to decorate the top of the pirate flag valentines box.
Check the clock and begin gluing with abandon until you run out of time, patience, shells/gems, or all three.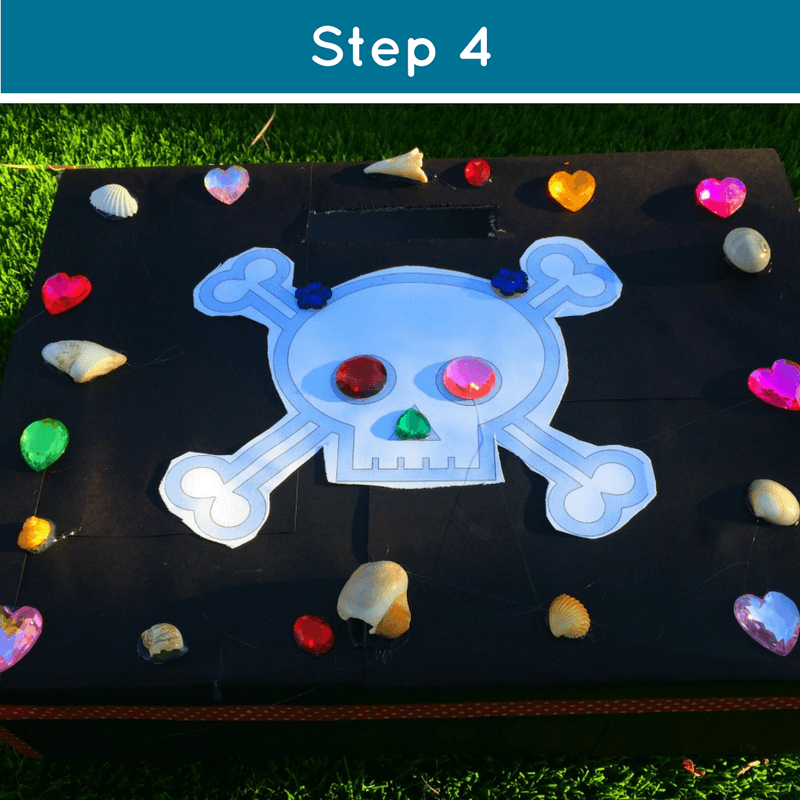 Step 5: Get it Out the Door and to School Before Someone Breaks it
As soon as anything is created in my home, the countdown begins to when a sibling will find a way to access it, tear it, drop it, spill juice on it, or otherwise destroy it.
After our crafting pirate masterpiece was complete, I swiftly moved it to the back of my car so that it was protected under lock and key.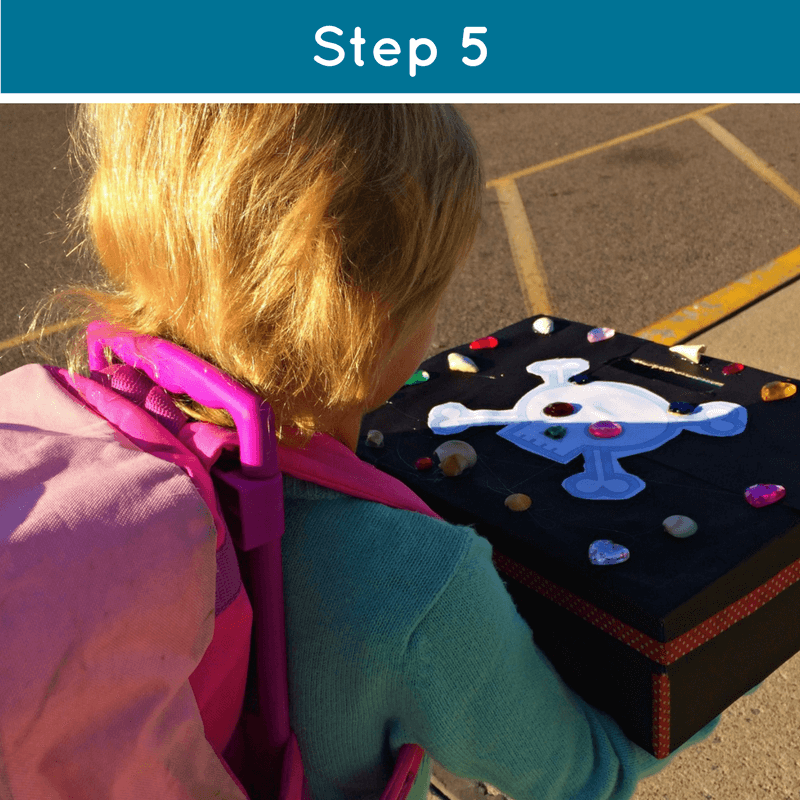 Step 6: Move On With Your Day
Is the purpose of this post to:
A) Help you create your very own pirate valentines box?
No, not really. But if you do please send me a picture. There can never be too many pirate-related valentines in this world.
B) Show you how amazing we are at crafting on a tight timeline?
Yes and no. We are incredible, of course, but that's not quite it. If you are sufficiently amazed, feel free to share this on social media to impress your friends. Sharing is caring!
C) Demonstrate that even crazy-busy, time-crunched and hurried parents can spend a few moments creating joy and memories with their kids?
Bingo! You do not need to be a Pinterest mom or dad to pull this project together. In fact, if you are hoping to throw your creation on that particular website, my guess is your child will have little to do with the actual creation of the finished project.
Could I have cut out the skull and crossbones better? Certainly (especially since I'm allowed to use the sharp scissors) But that's not the point of a child-centric project. Kids are learning and parents need to, in the immortal words of Elsa, "let it go."
I had also intended to cut out pink and red hearts from construction paper to add a more Valentine touch.
Additionally, the pirate princess had retrieved a large vile of gold glitter to lend some pixie dust to the final creation.
However, as is the case with almost every weekday morning, the clock was moving at a speed that defied physics and the time to pile into our vessel (AKA the minivan) was at hand. We were off to school.
Finding Time for Love & Piracy
I don't quite know how it happened but we created a culture where there is so much pressure to be perfect.  We all want to post the prettiest pictures on social media to impress our neighbors and friends.
This pirate valentines box was messy, fun, and of my daughter's funky imagination.  It's imperfectly perfect.
This Valentine's Day, I challenge you to let your freaky pirate flag fly and do something with your young crew that's fun, silly, and maybe even a bit sticky.
There is no gift you can give your child that will make up for the time you spend with them. Seeing my daughter beam with pride as she walked up to school that day was the best present I could possess for Valentine's Day.