5 Simple Steps for Adding a Beach to Your Coastal Backyard
Wouldn't it be fantastic to come home after a long day of work and hang out at the beach? You don't need to live near the ocean to take advantage of the relaxing qualities of beach living. Creating a laid-back coastal feeling all year is as simple as adding sand to your backyard, propping up a fun umbrella and setting down a couple of beach chairs. All that's left is to snuggle your toes deep in the sand and take a relaxing breath. You are home. Follow these five easy steps and you will have a soothing beach in your coastal backyard by sunset!
Before getting started, pull together this list of supplies you will need to create your own coastal backyard beach.
Backyard Beach Supplies:
Shovel
Rust-Oleum white marking spray paint (optional)
Roll(s) of Landscape Fabric
Utility knife (box cutter)
Bags of SAKRETE 50 lb. Play Sand
Landscape stakes/staples
Hammer
Electric Drill (optional for border)
Rebar (optional for border)
Border material (see Step #4 for ideas)
Pea Pebbles/Gravel (optional for deep beaches – see Step #5)
Step 1: Design Sand Area
Lay out the design for your sandy coastal backyard beach area using one of the following options: white chalk, white marking spray paint, staking it out with strings, or simply dragging the side of a shovel around your yard.
Now that you have designed the layout for your beach, it's time to prep the area for the sand.
Step 2: Clear Out Ground Cover
Using a shovel, remove the ground cover until you reach your intended purpose's desired depth. For example, clear 3-4 inches down for a fire pit area, 5-6 inches for a play beach, or 6-8 inches for a playground surround.
Make sure to remove all large stones, debris, roots, and anything that can stick back up into the sand. You should be left with an even and smooth surface.
Step 3: Roll Out Landscape Fabric
Starting from one corner of the beach area, lay the landscape fabric down flush with the ground. Next, roll the landscape fabric from one end of the beach area to the other side.
Do not cut the roll yet. Walk back to where you first laid the landscape fabric. Grab your hammer and stake the fabric to the ground with your staples.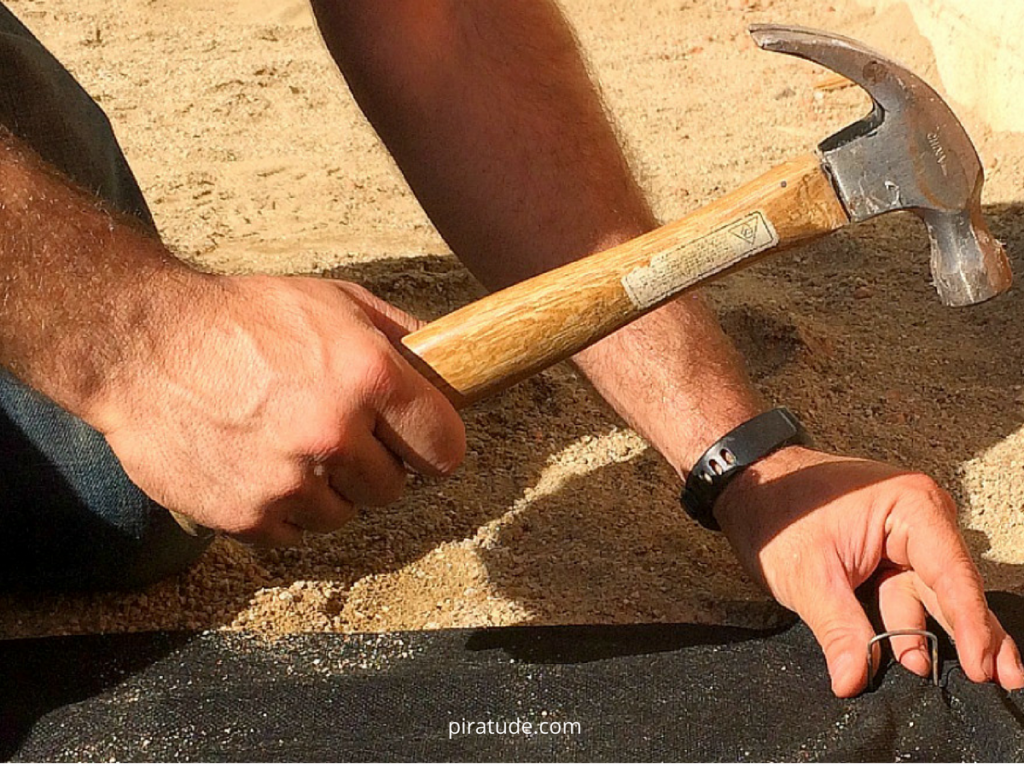 Move your way down the fabric, stapling every foot (or less) on the exterior side (i.e. the side on the edge of your sand area) until you reach the other end, pulling the landscape fabric taut as you go.
Once you have reached the other end of the sand area, using your utility knife, cut the landscape fabric from the roll. Secure both ends of the landscape fabric with staples.
Next, walk back to the starting edge and lay your second sheet of fabric parallel to the first, overlapping the first sheet of landscape fabric by 3-4 inches.
Hammer staples down the length of the landscape fabric on the overlapping side, taking care to pierce both strips of landscape fabric with each staple. Repeat this step until you have covered the entire area in landscape fabric.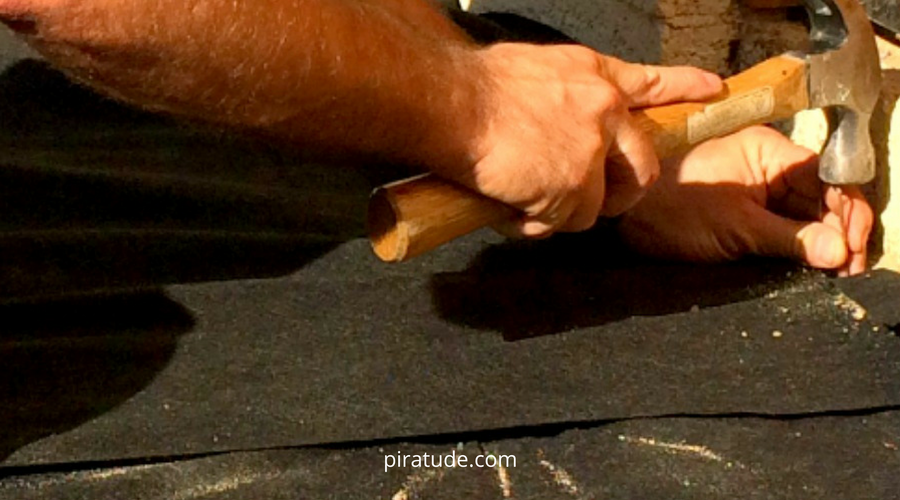 Finally, make sure all edges of the fabric along the outer rim of your sand area have been stapled so that it does not shift with time.
Special Notes
Don't Skip: It might be tempting to skip this part of the process and dump sand right into your pit. A word of warning – If you do not want to be constantly weeding your beach, this is an important preventative maintenance step.
In the past, landscapers used a plastic form of barrier to block weeds. This stuff is very cheap; however, it is not advised for use in your beach area because rain water will not be able to drain through and soak into the ground. If you use this plastic covering, you will be left with a soggy tidewater pool or lagoon after a heavy rain instead of a relaxing beach.
Round Beach: If your coastal beach sand area is round or oval in shape, roll your landscape fabric first along the longest stretch/diameter and work your way to the smaller/shorter edges. Next, follow the same procedure of overlapping landscape fabric edges outlined in the step above. Finally, you will need to cut your landscape fabric edges to match the curve of your border.
Step 4: Install Beach Border
To contain the sand, it is necessary to add a border around your coastal backyard beach. For our sandy oasis, we chose a combination of redwood rounded 4×4's and a curved stone retaining wall.
First, we laid out the redwood along the edges of our beach.
Next, we drilled holes with a electric drill on each end of the wood. Finally, we hammered rebar stakes to secure them to the ground. If you chose to go this route, make sure that you hammer the rebar flush with the redwood.
The stone retaining wall was added to a portion of our beach as we needed to accommodate a change in elevation in our backyard.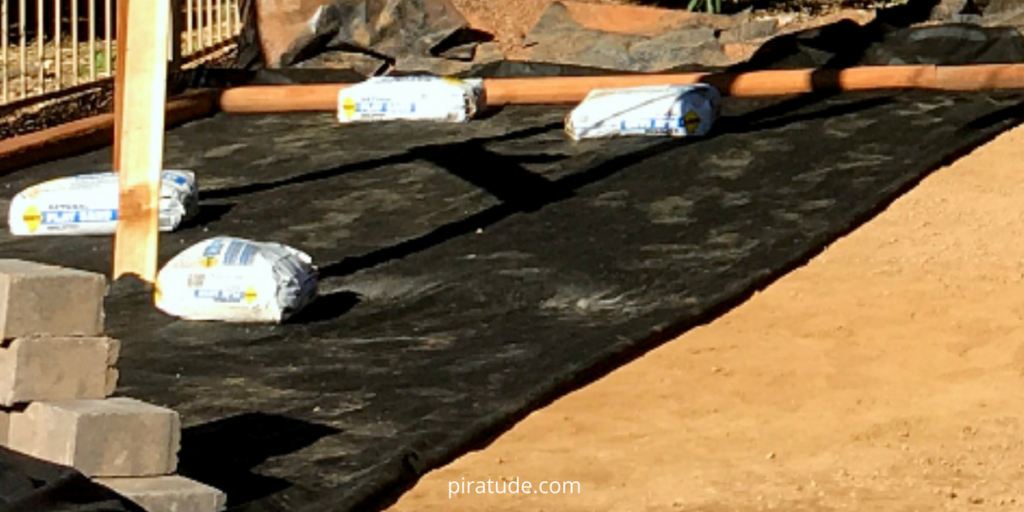 As you can see from the photo above, one of the previous homeowners had installed the cheap black plastic weed barrier. To clear the ground for our coastal backyard beach, we removed the plastic layer and the gravel.
Edging Options
Other options for edging include stone borders, composite landscape curbing, or brick pavers. However, if you want a smooth transition from your sand beach area to a grassy landscape, we recommend Vigoro premium black composite edging or a composite curved playground border.
Step 5: Fill Beach Area with Sand
We recommend using play sand for your coastal backyard beach. Play sand is filtered and washed sand that has been dried and screened for fine dust and particulates. You can purchased these in 50 lb bags or even have them delivered right to your home in bulk.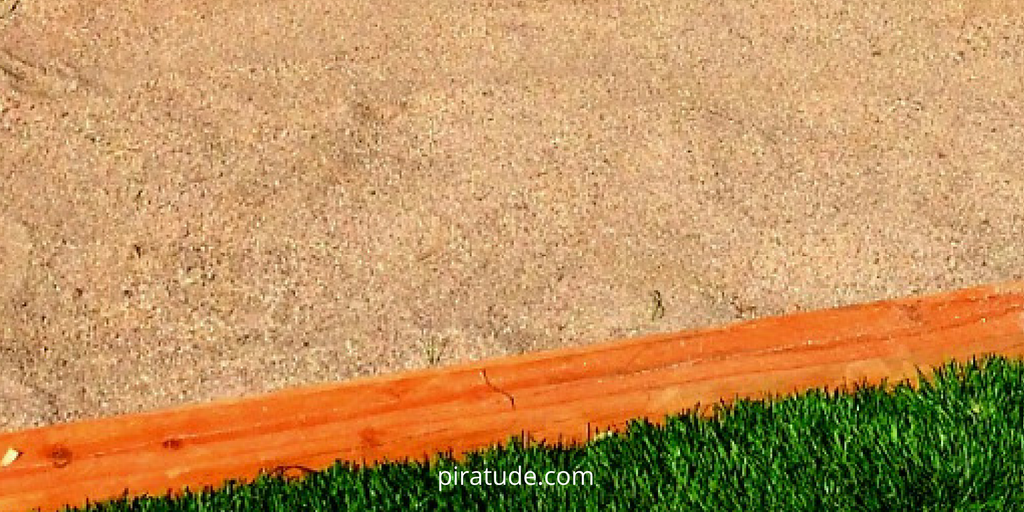 If your beach is only 3-6 inches deep, dump bags of sand directly onto the landscape fabric until you reach the desired depth.
Optionally, if you are creating a very deep beach pit, consider adding a thin layer of pea pebbles/gravel to the bottom before adding the landscape fabric. This will help with drainage after a heavy rain.
Coastal Backyard Beach
You are now ready to grab a beach chair and enjoy a sunny day or cool night in your very own coastal backyard beach!
Have you created a sandy haven in your yard? Comment below and send me a picture of your relaxing retreat.