Building a Pirate Playground (Part 1)
One of the key components to living a life with piratude is having fun where ever you are. When we moved into our home about a year ago, the backyard looked like this most places in the desert – full of red granite gravel, springy green weeds, and river rocks.
While it is a large space for the metropolitan area we live, the piles of gravel were not a good enough inducement for the progeny to go outside and run around. Jumping off the couch and counter stools does not an appropriate jungle gym make (at least from a mom's perspective).
Playground Groundwork
Therefore, we decided that the first thing we wanted to place in our back yard would be a playground. Knowing that this would be something I saw from the kitchen window for many years to come, I wanted to be sure it was at least pleasing to the eye. As Christmas was right around the corner, we decided it would make a terrific gift for all three kids.
Loving the coastal lifestyle, I figured it would be pretty amazing to have some sort of boat-shaped playground. But where was I going to find something like that? With this question in mind, I turned to GOOGLE. To my surprise, there really are not that many already-in-a-box boat-shaped playgrounds.
I was so surprised because many of the pieces you find on traditional playgrounds have nautical aspects.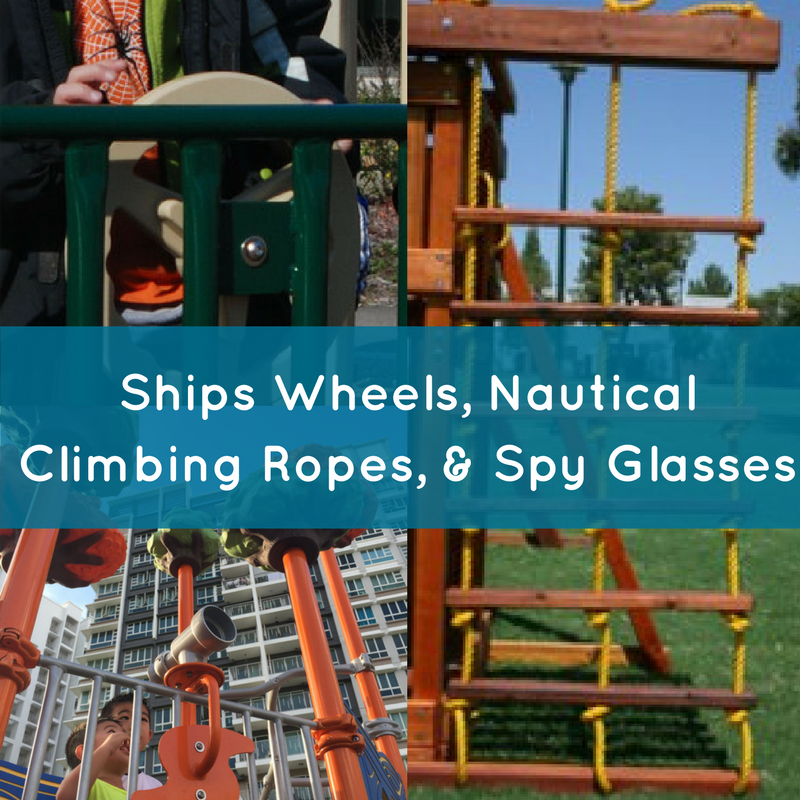 [This post contains affiliate links so that I can direct you to the products I used for the pirate playground. Read more in my Disclosures]
Why couldn't somebody just build one that I could order online? The husband is super handy so I had visions of him unpacking a few boxes and putting one together in a few days.
Finding a Pirate
After several weeks of searching, I came upon Derek Hinckley who specializes in building pirate play ships. These were not kits but hand-made playgrounds. I poured over his website, especially the gallery of wonderful ships he had built for his clients. The idea of a pirate playground seemed perfect! I decided on the medium pirate play ship.
There were just a couple of small, insignificant problems to tackle first. (1) There wasn't enough time to hire Mr. Hinckley and his crew to fly to Arizona and build the ship before Christmas and (2) the cost of the ship was already stretching the budget.
"No biggie" I said, "my husband can just build it from scratch himself!" Luckily, Derek sells the building plans for only $250. That's a steal! I chatted with Derek both on the phone and via e-mail. He sent me the specifications for the medium play ship. I crunched the numbers and figured we could afford to build this ship so I bit the bullet and pressed "buy now" on the plans book. Find the plans HERE.
Pirate Playground Plans – The Reality
Once the plans arrived, I excitedly showed them to my husband. While the plans were written with photos and seemed to be laid out in an orderly fashion, my husband looked at the amount of work involved and the crazy-fast timeline to the 25th of December, and admitted that he could use some help. Ok, what he really said was, "I can do it but it's not going to be done until Easter." I took this to mean that help would not be unwanted.
We had just moved to the area and didn't know any carpenters so I jumped on Thumbtack.com and put in what I needed. Luckily, a wonderful carpenter/retired home contractor contacted me and seemed genuinely interested in building this ship for my children.
Shopping for Playground Components
With my building team and pirate playground plans in hand, I was ready to go shopping for all the supplies. And boy, were there supplies! I created an online shopping cart full of different pieces of wood from Home Depot and bought everything else from Amazon. Nothing like getting things delivered to your home to make it feel like things are progressing.
Keep in mind that this was supposed to be a Christmas surprise for the children so when the big yellow slide showed up on our door from Amazon (unboxed), we had to do some quick footwork to hide it from our eagle-eyed children. Luckily, everything else came in big nondescript Amazon boxes so the kids didn't ask any questions. I routinely get paper towels, diapers, and tissue paper from Amazon so the kids know most boxes aren't full of exciting presents for them.
The First Playground Upgrade ($$)
When I originally priced out the pirate play ship, I looked at the cost for the wood specified in the Official Building Plan – pressure-treated pine. When I talked with my contractor he advised me against using that for a child playground due to the chemicals they soak into the wood to keep its bug repellent qualities. He suggested I use cedar or redwood as they are naturally repellent of bugs with no added chemicals. This sounded great to this organic-loving momma.
My awesome carpenter also mentioned that redwood would be the best as it can withstand our AZ heat and the boat could still be standing 30 years from now. With his solid endorsement and a few days of internet researching which backed his assertions, I decided to make the change.
When I opened up my shopping cart on Home Depot's website and switched all the wood to redwood, the price nearly doubled. Serious sticker shock ensued but it's all for the kids right? (sigh). I wanted that boat.
Pirate Playground Beginnings
After all the ship lap and 2x4s were ordered, we could finally break ground on the pirate ship! Only three weeks left until Christmas! (did I mention we were on a strict timeline?) We put sheets up over the patio so the kids couldn't see into the yard and got to work. My wonderful carpenter started the next day on building the hull of the ship.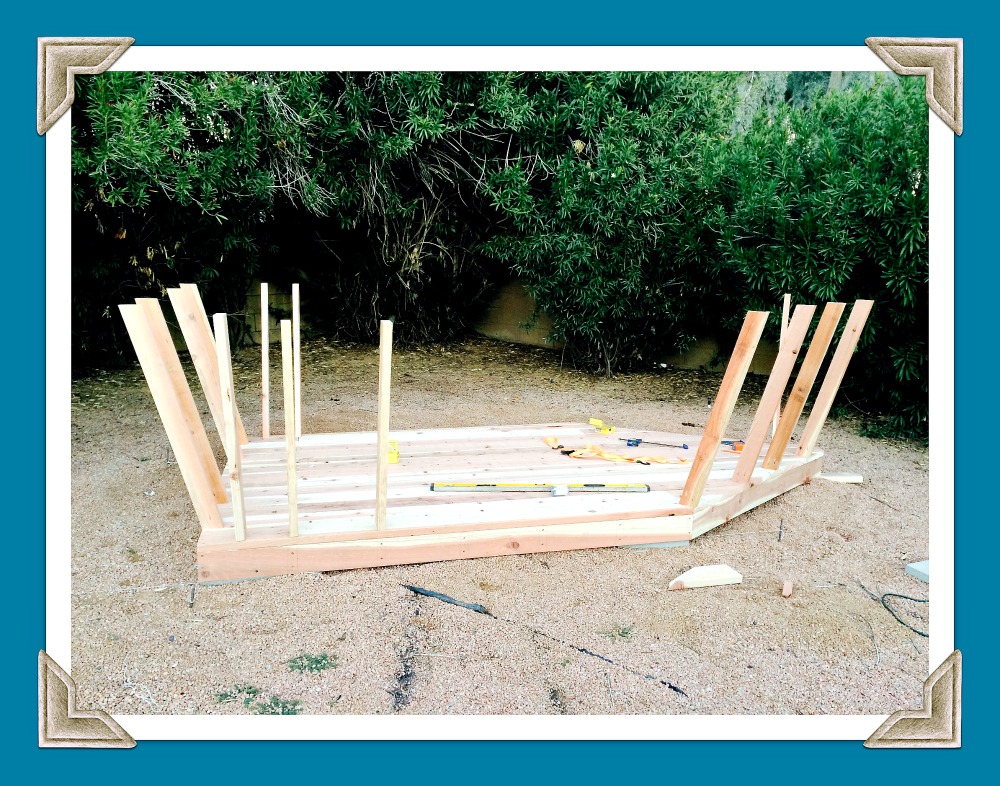 While the ship was in the beginning phase of construction, my handy husband was out of town. So basically the only foreman on the job was me (and let's just say I'm not great in the spacial department). One night near the beginning of construction I went outside after the kids were in bed to inspect the ship.
I sat there in that little hull of a ship and wished that I had ordered the larger ship instead. It just looks so small! Will three kids be able to play on this?
Now any of you seasoned carpenters, construction pros, and even sailors will tell you that the bottom hull of the ship is in no way an indication of the actual size of the vessel. Little did I know what was in store for me.
By the time my husband returned home, the small pirate ship had magically morphed into quite the vessel. I went from being sad that it didn't appear big to very concerned that it was too big! If this was a medium ship, what did a large ship look like?!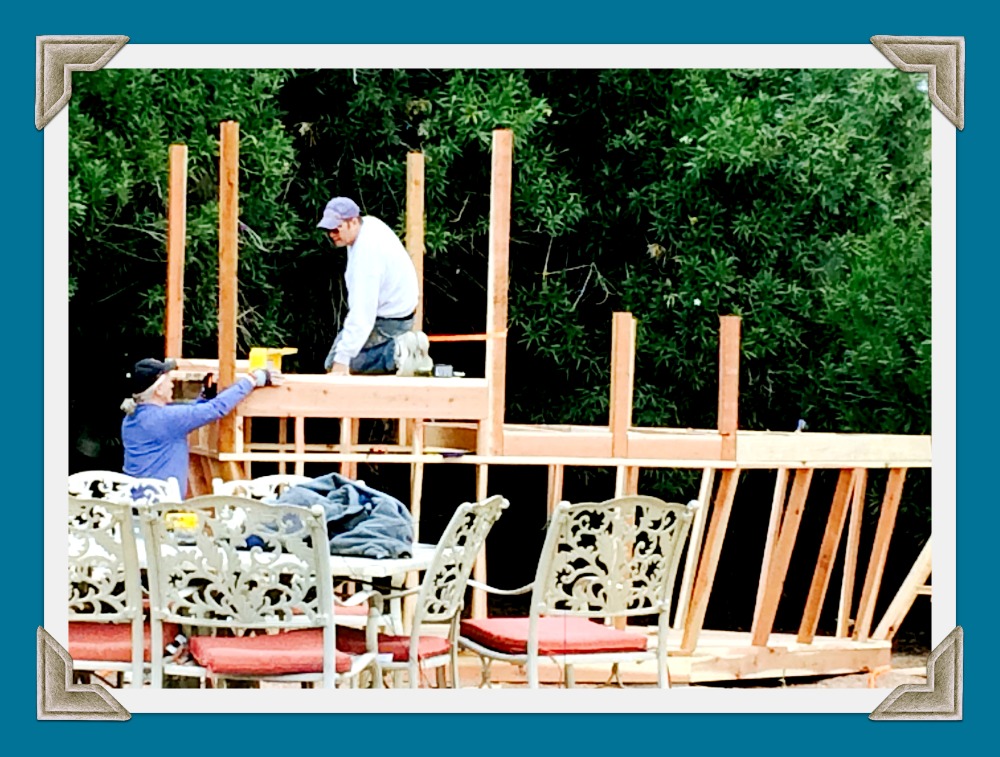 I was about to find out. Read more about our adventures in building a pirate playground in Part 2 of the series.